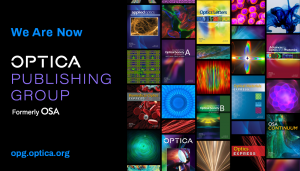 OSA is honoured to announce OSA's new name—Optica, the Society advancing optics and photonics worldwide. The new name is one that honors their past, is true to the present, and embodies the future. And it's a name that is already well-known and respected by the community thanks to their Journal with the same name.
With the change to the Society's name comes a change to the publishing program's name too, now known as Optica Publishing Group. OSA's new publication platform has been refreshed to reflect their new visual identity. As part of that redesign, they also took the opportunity to optimise the user experience, helping to ensure that Optica Publishing Group continues to be at the forefront of accessibility, usability, and discoverability for our community.
While the look for their website has changed, all of their subscription and Open Access journals and offerings will continue as is, with one exception. The one change that they will be making is to their Gold Open Access title, OSA Continuum. It will become Optics Continuum effective with the 2022 volume. The Journal's new URL will be opg.optica.org/oc, and its new ISSN will be announced later this year.
To read more, click here:  https://mailchi.mp/igroupanz/upevfqznlj-6259207
About iGroup Australasia:
iGroup is a leading one stop shop for information products, learning solutions and library technologies in Australia and New Zealand. We provide our clients with a range of scholarly publications, e-journals, e-books, and technology solutions tailored to their needs to enable world class research