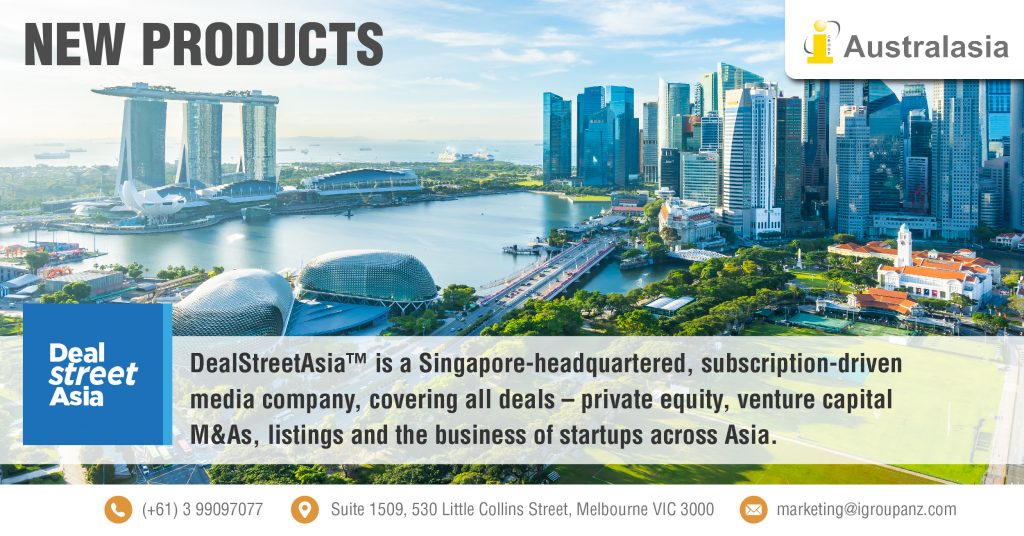 iGroup Australasia is thrilled to announce our new partnership with DealStreetAsia.
DealStreetAsia™ is a Singapore-headquartered, subscription-driven media company, covering all deals in private equity, venture capital M&As, listings and the business of start-ups across Asia. DealStreetAsia provides deals data, intelligence, and perspective on some of Asia's most opaque markets to international and regional investors. DealStreetAsia also tracks start-ups that are disrupting the status quo and playing an important role in the evolution of one of the fastest-growing regions of the world.
As Southeast Asia's first subscription-based digital media company, DealStreetAsia's USP is producing journalism worth paying for. The response to the introduction of the paywall has surpassed their expectations – it validates the readers' support for their journalism, and it is fuel for them to double down on building a world-class organisation.
DealStreetAsia DATA VANTAGE provides access valuations and key financials of venture-backed companies. It also provides exclusive data led stories and the deal monitors option that provides information about prominent venture capitalist transactions in Southeast Asia, China and India on weekly basis.  DATA VANTAGE can provide various types of company, thematic, and tracker reports.